Podcast: Play in new window | Download | Embed
Subscribe: Google Podcasts | Email | RSS
Ryan Mulvany is an Amazonoholic.
It started with used books.
Then new books.
Then toys and games, foods, soaps, beauty products, tech…
And yes, even Justin Bieber pillow cases at one point.
In 2013 he founded Quiverr that provides Amazon solutions for the top recognized Consumer packaged good Organizations
From 2014-2017, they were San Diego's 3rd fastest growing company. And Amazon awarded them with a Platinum Seller Status.
And in 2017, he sold the entire business to a strategic partner, Advantage Sales and Marketing.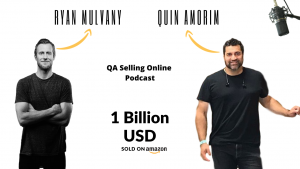 Some questions for Ryan:
How did you get into Amazon?
In 2009 did you know what Private label was?
What is a platinum seller status?
Do you private label products
What is the state of private label selling on Amazon?
What brands are winning today on Amazon?
What are big brands doing to compete with private label sellers on Amazon?
What was it like to be acquired?
How many SKUs did you have?
What tools do you use?
When launching a new product do you do giveaways, or what is your 2019 technique
When the listing has 20 sellers
Amazon transparency program
Links to connect with Ryan Mulvany
Connect:
https://www.ryanmulvany.com
https://quiverr.com/
Quin Amorim, Host of
Amazon FBA Selling Online Podcast